Class Notes – December 2015
| Last chance! Nominations close December 31 for Alumni Board and
Distinguished Alumni Award! Nominate here! |
| Spring Convocation: Monday-Tuesday, April 11-12, 2016 – Save the Date! |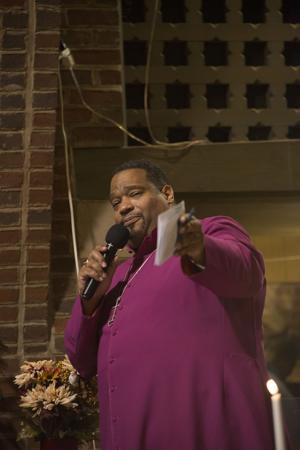 Bishop Dwayne Royster, MAR 2010 (Urban Concentration) | Pastor, Living Water United Church of Christ, Philadelphia, Pennsylvania
Bishop Royster's congregation, Living Water United Church of Christ in Philadelphia, was featured as "Church of the Week" in a recent issue of The Philadelphia Tribune. Tribune correspondent Samaria Bailey writes:
Living Water United Church of Christ saves people from the world — literally and spiritually. Operating as a social justice headquarters, the church uses Jesus' teachings to grow people as Christians, and in terms of economics, education and civil rights.
"I tell people we are out to change the damned world," said Bishop Dwayne Royster, senior pastor. "Many folks — like here in Philadelphia, which has a 30 percent poverty rate, are struggling — trying to find jobs, trying to raise kids. They wake up every morning — feeling like they are in hell. So, if our faith is real, then how are we trying to change the damned world and get it so it doesn't feel damned to folks any longer?"
Read the article on the Tribune website.
The Rev. Dr. Wylie W. Johnson, DMin 2010 | Pastor, The Springfield Baptist Church, Springfield, Pennsylvania
The Rev. Dr.Wylie W. Johnson, a 2010 alumni of LTSP (DMin), retired as a Chaplain (Colonel) from the US Army Chaplaincy in 2012. Pr. Johnson was honored to receive the Freedom Medal from the Delaware County (PA) Veterans Memorial Association at their annual banquet on November 12, 2015, at the Springfield Country Club. Well more than 500 enthusiastic veterans and their supporters attended this second annual event. Chaplain Johnson was cited for outstanding service to the nation and his volunteer service in the local community. He is the Senior Pastor of the Springfield Baptist Church and volunteers as a Law Enforcement Chaplain and as a leader on the county Suicide Prevention Task Force. Watch a video from the Freedom Medal award event on YouTube.
The Rev. Dr. H. Paul Santmire, STM 1960 | retired
I celebrated the 50th anniversary of my ordination in September and my 80th birthday in November. Still "on the circuit" giving lectures in ecological theology. Visit my website at HPaulSantmire.net.
Podcasting's a Thing!
Seminarians and graduates have taken to podcasting, and they have managed to interview some impressive guests:
Two Bald Pastors are the Rev. Joe McGarry (MDiv 2008) and the Rev. Geoff Sinabaldo (STM 2011), who started out their podcast effort with an early November discussion with ELCA Presiding Bishop Elizabeth Eaton as their guest. They share their thoughts on ministry and more in what they call "Real Faith – Real Life." You'll find the podcast on the 2baldpastors.com blog and on their 2baldpastors Facebook page.
Closer to campus, seminarians Alex Zubar and Micah Krey started A Little "Co-OP"eration as a class project for the Contemporary Lutheran Theology course at LTSP. Alex and Micah are both studying for the MDiv as part of the initial cohort of the Co-op program (hence the podcast's name) and were profiled previously in Portions.
They note that "Our goal is to break jargon, have some laughs, and move the conversation forward about the Gospel message we hold so dear," and have addressed violence, baptism, thankfulness, and other issues so far in their 11 podcasts. The eleventh edition is a conversation with LTSP President David Lose, where they discuss  the use of Pop Culture in preaching and the communication of the Gospel.
Their A Little "Co-Op"eration Facebook page includes links to the podcasts and other items the hosts find interesting. Podcasts can also be found on the A Little "Co-Op"eration Soundcloud page.
Passages
Phillip J. Harris, Seminarian
Phillip Harris, the oldest current MDiv (UTI Concentration) student at LTSP, died in early December. He started the program in spring 2012, and was about half way to completing the degree. Philip was a member of Second Pilgrim Baptist Church, where LTSP graduate the Rev. Korey Grice (MDiv 2010) had served as an associate minister.
UTI Director the Rev. Dr. Quintin Robertson said "My words to his daughter were, 'he was an inspiration to all of us, showing us that it is never to late too learn and grow.' Phillip came to us as a part time student after his retirement."
The Reverend Dr. Wayne E. Croft, Sr, The Jeremiah A. Wright, Sr. Associate Professor of Homiletics and Liturgics in African American Studies, remembered, "I simply add that Phillip was very engaging bringing wisdom and experience to every class."
The Rev. Henry G. Fromhartz, MDiv 1972
The Rev. Henry G. Fromhartz died on Saturday, November 14, 2015.
Following his graduation from LTSP in May, 1972 and ordination by the Northeastern Pennsylvania Synod in later that month, Pastor Fromhartz was called to serve Zion Lutheran Church in Womelsdorf, Pennsylvania. He served there until his call in 1976 to the Huff's Church/New Jerusalem Lutheran Parish in Barto and Topton, both Pennsylvania. From 1979 until 1983, Pastor Fromhartz served at Good Shepherd Lutheran Church, Ashland, Pennsylvania. He retired in 1985.
A memorial service will be held at Our Saviour Lutheran Church, 370 Junipero Avenue, Long Beach, California 90814.
Information from The Northeastern Pennsylvania Synod, ELCA