Class Notes – January 2015
The Rev. Christoph Schmidt MDiv 2011, Campus Pastor for Lutheran Campus Ministry at Minot State University
Pr.Schmidt took a new call as Campus Pastor for Lutheran Campus Ministry at Minot State University, Minot, North Dakota starting in the fall of 2011.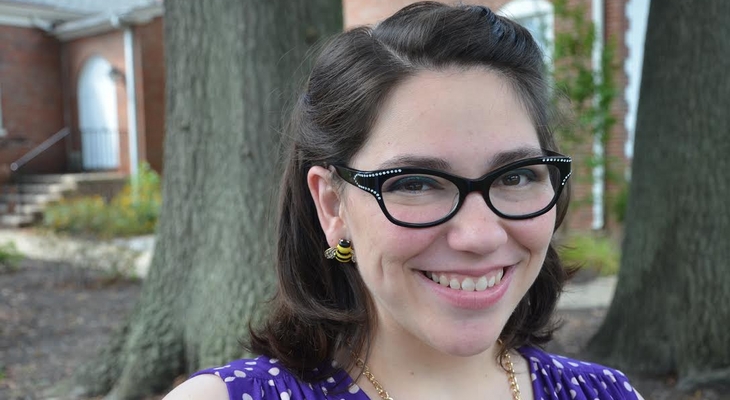 Maria Fumai Dietrich MAPL 2011, Associate Director at Platt Student Performing Arts House, University of Pennsylvania
Maria was named an Emerging Arts Leader by EAL: Philadelphia (EAL:P) in December, and was interviewed as an "exciting arts and cultural professional" working on behalf of the arts sector in Philadelphia. Read the interview at Philadelphia Culture.
The Rev. Charles Plummer MDiv 2008, Pastor, Saint Luke Evangelical Lutheran Church, Glen Ellyn, Illinois
Sara (my wife) and I welcomed our first child, a son, Parker Lynch Geishecker Plummer, into the world on 27 December 2014.
The Rev. David Kistler MDiv 1957, Retired
Mrs. Kistler and I moved to a 'cottage' at the Lutheran Home at Topton, PA, on December 1st, in the shadow of the historic tower that chimed for Civil War orphans. Area Lutherans started this facility to care for the many children needing a home after that war of the states. As children, we would come with our St. John, Coopersburg, members to Anniversary Day, bringing food items for the pantry and enjoy the playground and Anniversary Day activities. As foster care and adoption programs developed, The Topton Home became a Diakon senior living facility. We're living a part of Lutheran faithfulness.
The Rev. Karen Sease MDiv 2014, Pastor, Grace Lutheran Church, Pottstown Pennsylvania
Karen Sease (MDiv 2014) and Laura Tancredi (MDiv 2014) (in the photo below) were ordained on December 6, 2014. The service was held in the LTSP chapel. The Rev Louise Johnson preached and the Rev Claire Burkat, bishop of the Southeastern Pennsylvania Synod of the Evangelical Lutheran Church in America, presided. Karen has been called to Grace Evangelical Lutheran Church in Pottstown, and Laura has been called to St Paul's Lutheran Church in Ardmore, PA.
Obituaries
Pastor Gunther J. Stippich died on Sunday, December 1, 2014. Having turned 100 on his last birthday, Pastor Stippich was the oldest pastor in the Northeastern Pennsylvania Synod of the ELCA. He was a member of LTSP's class of 1939.
Following his ordination in 1939, Pastor Stippich served as the pastor of St. Matthew, Bronx, NY until 1941. From 1941 to 1944, he was the pastor of Emanuel in Brooklyn, New York. In 1944, he was called to St. Michael's in Philadelphia. Pastor Stippich was called to serve St. John's German Lutheran Church, Reading, in 1949. He continued to serve there until his retirement in 1974. Following his retirement, Pastor Stippich served as interim pastor at St. Paul, Lobachsville, and Zion-St. John, Stouchsburg, and visitation pastor at Alsace, Reading, all Pennsylvania. For a time, he was also a professor of German at Alvernia College in Reading.
Pastor Stippich's funeral service will be private at the convenience of his family.
Condolences may be sent to Pastor Stippich's wife, Jane, at 27 Schuylkill Drive, Phoebe Berks Village, Wernersville, PA 19565.
Announcement from the Northeastern Pennsylvania Synod, ELCA. Read an obituary here. Photo from obitsforlife.com.
Pastor Roy E. Gulliford died on Sunday, January 10, 2015. He received a BD from LTSP in 1959.
Following his ordination in 1959, Pastor Gulliford served as assistant pastor of St. John, Mayfair (Philadelphia) until 1960. From 1960 to 1964, he was the pastor of St. Paul in Lionville, Pennsylvania. In 1964, he was called to Reformation, Reiffton. In 1970, the Eastern Pennsylvania Lutheran Camp Corporation called Pastor Gulliford to serve as the Executive Director of Bear Creek Camp, a role in which he continued until his retirement in 1996.
Plans are still in process for a memorial service that will be held at Reformation Lutheran Church, 3670 Perkiomen Avenue, Reading, Pennsylvania 19606. When the plans are finalized, there will be a note in the Northeastern Pennsylvania Synod's E-News (sign up here).
Condolences may be sent to Pastor Gulliford's wife, Marilyn at 5046 Lakescene Place, Sarasota FL 34243.
Announcement from the Northeastern Pennsylvania Synod, ELCA