March 2015 Class Notes
The Rev. Steven Jensen (MDiv 1973), U.S. Navy Chaplain (Retired)
Dr. N. Fred Nelson and new wife Robin are in Hawai'i for their honeymoon. I'm Fred's daughter Erika 's godfather and performed her wedding 20 years ago. First met him at Gettysburg for summer concentrated Greek class in 1969. Tis estin houtos?
Sending one of my troops back to American history class. No, I was not there during the Civil War. It was the Revolutionary War.
Seminarian Tracy Thomas
I was voted by the NBA players to the the 2015 NBA All-Star Chaplain. I received the majority vote from players across the league to represent the 2015 Eastern Conference All-Stars during All-Star Weekend, February 12-15 in New York at Madason Square Garden, Manhattan, and The Barclay Center, Brooklyn.
In the photo below: Eastern Conference players LeBron James, Carmelo Anthony, Chris Bosh, Pau Gasol, John Wall, Kyle Lowry, Jimmy Butler, Al Horford, Kyrie Irving, Kyle Korver, Paul Millsap ad Jeff Teague; 4 ball boys (unidentified), head coach Mike Budenholzer, and team chaplain Tracy Thomas (the short guy on the right)
The Rev. Dr. H. Paul Santmire, BD 1960, Retired
H. Paul Santmire, BD '60, gave the opening keynote address at an international conference on "Rediscovering the Spiritual in God's Creation," held in Adelaide, Australia, March 10-13, 2015. Building on the narrative of his most recent book, Before Nature: A Christian Spirituality (Fortress 2014), Dr. Santmire explored the theme "A Sublimely Natural God: Fragments of a Christian Spirituality."
The Rev. Tim Poston, MDiv 1997, Pastor of Holy Cross Lutheran Church in Hiram, GA, just outside Atlanta
I have accepted a new call as a mission developer to Joy of Discovery Lutheran Mission back in my hometown of Raleigh, NC. I start there in about a month's time. My wife and I are very excited about this new opportunity.
The Rev. Dr. Leah Schade, MDiv 2000, PhD 2014, Pastor, United in Christ Lutheran, Lewisburg, PA
The Rev. Dr. Leah Schade will be releasing her new book, Creation-Crisis Preaching: Ecology, Theology, and the Pulpit, through Chalice Press in August 2015. She is also serving as an adjunct professor at Lebanon Valley College. Dr. Schade blogs at ecopreacher.blogspot.com, where she recently discussed the book.
Passages
The Rev. John Steinbruck, MDiv 1959
Remembered as a community organizer and seeker of justice,  LTSP alumnus the Rev. John Steinbruck, MDiv '59. Steinbruck "was an outstanding example of all that is right and possible in public theology," noted LTSP Charles A. Scheiren Professor of Church and Society the Rev. Dr. Katie Day. "He 'walked his talk and talked his walk' consistently and without compromise." Alumnus John Eskate, MAPL 2013, had a personal connection, "John Steinbruck was a mentor to me — he was largely responsible for my enrollment in the MAPL program at LTSP. Pastor John's ministry, his leadership, and values are a model of the Public Leadership degree program."
Pr. Steinbruck died March 1, 2015, in Lewes Delaware. The funeral was held March 6 in Lewes, and a memorial service was held Monday, March 9, at Luther Place Memorial Church, Washington, DC.
Katie Day further remarked, "There's so much to say about John!  He was an outstanding example of all that is right and possible in public theology. Not only was he faithful in his verbal witness – and I'll miss those daily missives about what Jesus would think about foreign policy, the scandal of poverty, or the lack of courage he saw in the church – but he was effective. John could organize, he could network, he could raise funds for projects, and did. N Street Village is the most outstanding example. Even after he retired to Lewes, he got involved with organizing poultry workers! He was tireless to the end."
A graduate with a Bachelor's and Master's degree from the Wharton School of the University of Pennsylvania, Pr. Steinbruck began working in industry, but, feeling unfulfilled, he answered a call to ministry and enrolled at LTSP. After graduation in 1959, Pr. Steinbruck briefly served as assistant pastor at St. John's Lutheran Church, Nazareth, Pennsylvania. In the early 60's he was called to Zion Lutheran Church in Easton, Pennsylvania, subsequently merging this congregation with St. John's Lutheran Church, Easton, just three blocks away. The merger brought together a group of strong minds and gentle spirits to carry on a faithful presence in downtown Easton. Joining with other congregations – Protestant, Jewish, and Catholic – a community outreach program, ProJeCt, was formed to address pressing social issues in the area.
Pr. Steinbruch was called to Luther Place Memorial Church at Thomas Circle in Washington, DC, then an area which drew the homeless, hopeless, and a haven for prostitution. John Eskate recalls his meeting Pr. Steinbruck and his influence on Eskate's formation:
"I first met John when he brought a busload of quilts and quilters to N Street Village where I worked in 2009; I was there through the Lutheran Volunteer Corps. My supervisor introduced us, and we sat and talked for what seemed the entirety of his visit to N Street that day.
"A few months later, he invited me and two other LVCers to stay at his home in Lewes for a weekend. We sat on the floor while he talked at length from his rocking chair about his ministry at Luther Place, his radical ideals of hospitality, and his critical state of the Church – I was captivated. His ministry inspired me to pursue a graduate degree program that would equip me with training in social work, pluralism and inter-religious studies, community organizing, and leadership development. I wasn't convinced that the Mdiv degree would train me in the model of ministry that Rev. John Steinbruck exemplified, but maybe the MAPL ]Master of Arts in Public Leadership] would – and so far it has.
"Two years after I finished my LVC year in Washington, I began the MAPL program at LTSP. In my third semester at LTSP, I decided it was time to examine John and Luther Place under a microscope. I researched Rev. John Steinbruck's model of Transformational Leadership by interviewing his former church council members and analyzing their committee meeting minutes preserved in their archives. I probed into Luther Place's response to prostitution on its block over the course of a twenty year period. And I explored the peace-building that Luther Place contributed to Logan Circle and Washington from the Martin Luther King assassination riots to the time that John Steinbruck retired. The study was incredibly revealing about John's character, the commitment of Luther Place to social justice in Logan Circle and beyond, and the complex issues of sharing a block with sex workers.
"I compare my professional trajectory to Rev. John Steinbruck often, and see my coordination of Kosher Meals on Wheels in Philadelphia on track with his development of ProJeCt in Easton. I haven't met my Erna yet, or maybe I have, and I don't know where my ministry will take me, to Washington or wherever, but I can only hope that I have the courage that John had to pursue social justice and prioritize human dignity over personal comforts."
Pr. Steinbruck "retired" from Luther Place Church in 1997 to take up residence in Lewes, Delaware, but, as John Eskate found, he was still involved in ministry, and in raising leaders for the church. He is survived by his wife of 58 years, Erna Guenther Steinbruck and four much loved children, John Andrew Steinbruck (Julie); Elisabeth Ann Steinbruck; Michael Paul Steinbruck (Kimberlee); Katy Steinbruck, a son Mark John Steinbruck passed away in 1990; and his beloved grandchildren: Claire, Alex, Erika, and Lane Christian, children of John and Julie Steinbruck and Hope and Erin, children of Michael and Kimberlee Murray-Steinbruck.
In lieu of flowers contributions may be made to one of the ministries Pr. Steinbruck started while at Luther Place: N Street Village, A Continuum of Services for Homeless Women 1333 N Street N.W., Washington, DC 20005.
Read full obituaries here and here.
A mutual friend of Katie Day and John Steinbruck wrote this blog entry, which talks about Pr. Steinbruck's formation at LTSP.
This blog recalls Pr. Steinbruck and, as Katie Day reflected, his "daily missives."
John Steinbruck photo from Parsell Funeral Homes; photo with John Eskate courtesy John Eskate
Mary Houston, MAR (UTI) 2006, First Lady of The Christian Church in Philadelphia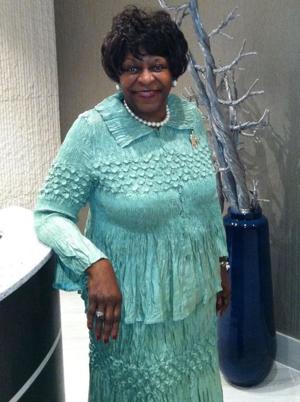 Mary Houston, a retired speech pathologist and long time church leader, died December 2, 2014 at age 62.
Born in Portsmouth, Virginia, she moved with her family to Roxbury, Massachusetts, and became an active member of Concord Baptist Church. She graduated from Boston University with a bachelor's degree in speech pathology in 1974, and while an undergraduate married Pastor Gordon Houston in 1972. They moved to Philadelphia after graduation after her husband accepted a call.
Houston became a founding member of The Christian Church in Philadelphia in 1978, and served in ministry with her husband for more than 37 years. She served as the director of the Women's Ministry, pastoral assistant, 30th and 35th anniversary chairperson, along with a host of other responsibilities.
Houston was licensed to preach the gospel at TCCP in Philadelphia in November 1991, and following licensing attended LTSP evenings and graduated with an MAR in religion in 2006.
In recognition of her distinguished service, Houston received numerous awards during her lifetime, including being named one of Philadelphia's most influential people.
In addition to her husband, Houston is survived by her children Gordon Stanley Houston Jr. (Ily), Kimberly Eugenia Houston, Alexander Graham Houston (Erika) and Jennifer Lauren Marie Wilson (Ronald); grandchildren Gordon Stanley Houston III, Grant Andrew Houston, Alana Michelle Houston and Ava Nicole Houston; sisters-in-law Elzie W. Reynolds (Peddy), Gladys Yvonne Smith (Andrew), Carolyn K. McGaughy and Brenda Gail Houston; brother-in-law Earl Winston Houston (Sylvia); aunt Rotha Maddox and other relatives and friends.
Read the full obituary in The Philadelphia Tribune. Photo and additional information from the Tribune.
At publication time, UTI Director the Rev. Dr. Quintin Robertson shared the following:
Vernetha Glover Henry, graduate of both UTI Certificate Programs in Church Leadership and Christian Ministry (in 2011 and 2013) died Saturday, March 7, 2015 from a heart attack. We hope to have more details in the April edition of PS Portions.