Revitalizing Congregations through Worship: Special one week Course this July!

This summer, a special one-week intensive course opportunity to equip and rejuvenate your ministries in the critical area of worship.  The course meets from 9 am-noon, then 1-4:30 pm each day, and can be taken for course credit for MDiv, MAR, DMin students, for CEUs, or for personal enrichment.
Revitalizing Congregations through Worship (July 6–10)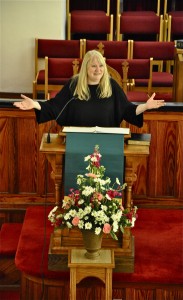 Taught by Dr. Marcia McFee,  professor, worship designer, author, preacher and ritual artist. She is the creator and visionary of the Worship Design Studio (worshipdesignstudio.com), an online experience of coaching, education, inspiration, and a design application.
Worship is the portal through which visitors find a spiritual home, members grow to greater discipleship and the whole congregation is inspired to "go and do likewise" in the world. The need is great for vital worship at the epicenter of congregational life. This course will explore the depths of spirituality, excellence of practice in sensory-rich communication and intentional preparation needed by leaders of the 21st century church for worship that revitalizes congregations.
Register online today here !
(opens a new browser window to the Henry registration system)
Need assistance in making choices or using Henry?
Courses are open for course credit to LTSP MDiv, MAR and DMin students as well as students from other seminaries and institutions, along with those in ministry for their continuing education or personal enrichment. Learn more about registration here, or contact the Registrar at 215.248.6305 or registrar@Ltsp.edu.